Merit has partnered with the Rhode Island Department of Labor and Training for their Back to Work Rhode Island program. If you are participating in this program, here's how you can get set up:
Step 1: You will receive an email from the Rhode Island Department of Labor & Training, announcing that you have been sent an official digital credential. Within that email, click the Accept button.
If you are having trouble finding this email in your inbox, please visit app.merits.com/get-my-merits and enter your email address. A new email will be sent to you that contains instructions on creating your Merit account.
Step 2: This will take you to a page where you can create your Merit account, by setting an account password and accepting Merit's terms of service and privacy policy.
Step 3: You should then receive an email inviting you to install the Merit app, available for iOS and Android.
You can also download the latest version of the app using these links:
Apple/iOS: Link to the Apple App Store
Android: Link to Google Play Store
Step 4: Download the Merit app and log in with your email and Merit password.
Step 5: Use the app to view your merits, as well as opportunities that have been made available to you based on the merits in your account. These opportunities can include supportive services and available job opportunities.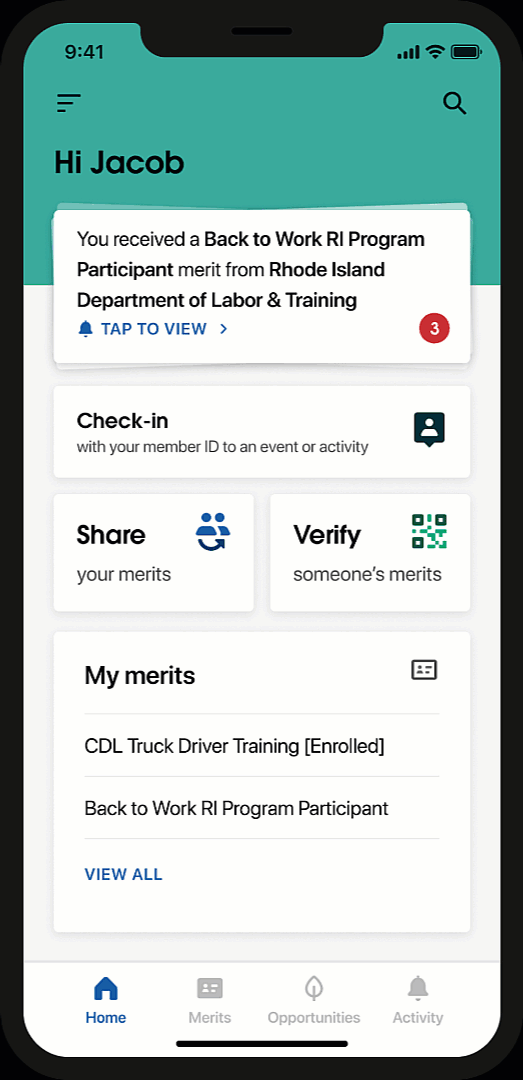 You can also view opportunities by logging into your Merit profile at app.merits.com and selecting the Opportunities tab.